"German Medieval Martial Arts, Volume 2: Sword, Buckler, & Messer"
is the second offering from Speaking Window Productions (Christopher Valli's production company), featuring Selohaar Fechtschule.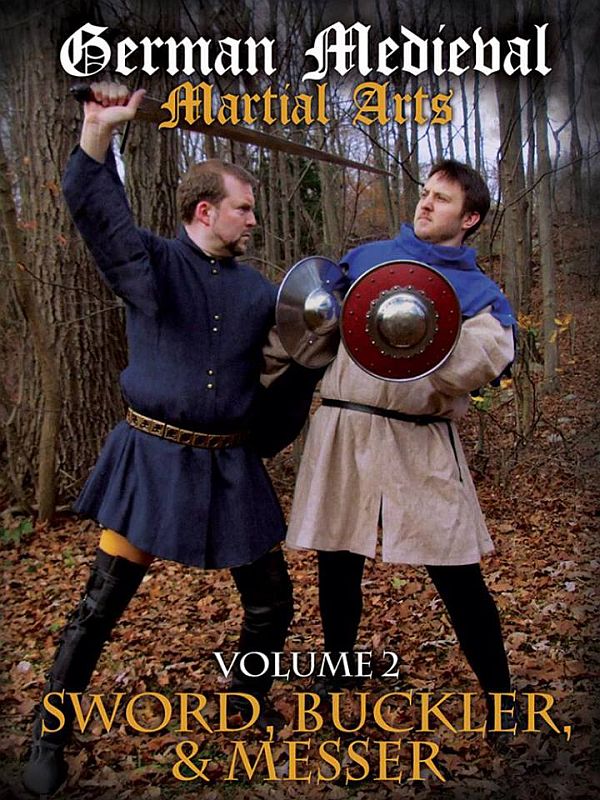 It covers the German tradition's techniques with the single-hand sword. This single-hand sword can either be a classic arming sword or the messer, a weapon that seemed particular to German (Holy Roman Empire) lands. It is very similar in appearance to the falchion. There are numerous theories regarding the messer, falchion, dussack, and sabre - none of which I want to get into at this point because in the terms of this DVD, it doesn't really matter. I'll explain later.
The DVD explains all the techniques in the context of a system - any technique you can do with the arming sword can be done with the messer. The buckler can be added in and is the icing on the cake. Just like their Poleax DVD, all techniques are presented in a very clear manner, including the partner drills and Litzinger's Six plays with sword and buckler. Interviews with Christian Tobler and Dr. Jeffery Forgeng round out what is, just like the axe DVD, an essential must for those practicing German medieval martial arts, those interested in sword & buckler, and even those just generally interested in Historical European Martial Arts. Two thumbs way up!
By the way Christopher - I loved the Easter Egg ;)